Parallel terminal supplier
Publish Time: Author: Site Editor Visit: 1115
product description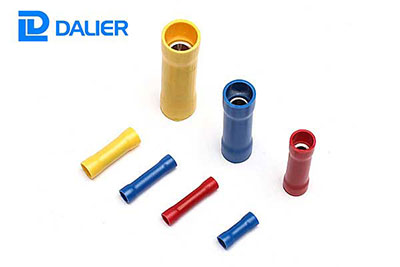 Material: purple copper
Insulating material: PVC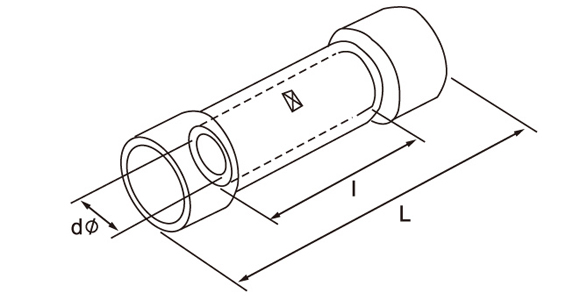 Technical Parameters
| | | | | | | | |
| --- | --- | --- | --- | --- | --- | --- | --- |
| Item No. | Cable size |   | Dimension |   |   | Imax |   |
|   | A.W.G | mm² | I(mm) | d (mm) | L(mm) |   |   |
| PVT1.25 | 22-16 | 0.5-1.5 | 8 | 1.7 | 16 | 19A |   |
| PVT2 | 16-14 | 1.5-2.5 | 8 | 2.3 | 16 | 27A |   |
| PVT5.5 | 43809 | 43561 | 8.5 | 3.4 | 20.5 | 48A |   |
| Maximum number of switching operation a day |   | 100 |   | 上胶方式 |   | 4P 415V~ | Gross Power |
| Additional characteristics |   |   |   | 电源 | Insulation voltage Ui | 500V | Gross Weight |
| Insulation vwltage(Ui) |   | 500V AC |   | 操作人员 | Rated frequency | 50/60Hz | Overall Dimension |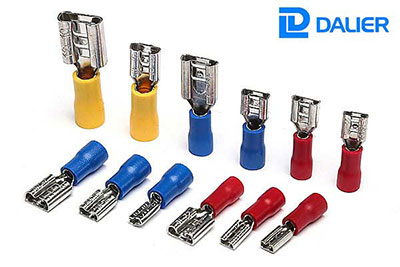 Vinyl-Insulated female disconnector FDD
Cable size: 0.5~1.5mm²(A.W.G.22~16)
Max current: Imax=10A
Material: brass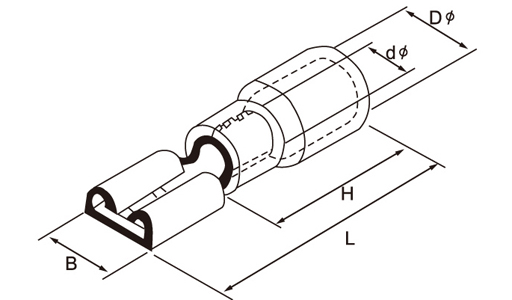 Technical Parameters
| | | | | | | | | |
| --- | --- | --- | --- | --- | --- | --- | --- | --- |
| Item No. | Name Tab | Thickness of material | Dimension(mm) |   |   |   |   | Color |
|   | (mm) | (mm) | B | d | D | L | H |   |
| FDD1.25-110(5) | 0.5×2.8 | 0.4 | 3.8 | 1.7 | 3.8 | 19 | 10 | Red |
| FDD1.25-110(8) | 0.8×2.8 | 0.4 | 3.8 | 1.7 | 3.8 | 19 | 10 |   |
| FDD1.25-187(5) | 0.5×4.75 | 0.4 | 5.6 | 1.7 | 3.8 | 19 | 10 |   |
| FDD1.25-187(8) | 0.8×4.75 | 0.4 | 5.6 | 1.7 | 3.8 | 19 | 10 |   |
| FDD1.25-205 | 0.5×5.2 | 0.4 | 6.5 | 1.7 | 3.8 | 20 | 10 |   |
| FDD1.25-250 | 0.8×6.35 | 0.4 | 7.4 | 1.7 | 3.8 | 21 | 10 |   |
Company Profile
YUEQING DALIER ELECTRICAL FACTORY is specialized in designing and developing wiring terminals and connector, cable lugs, contactors and thermal relay with excellent experience to manufacture such products.
Our products are widely used in electronic, machinery, instrument, electrical appliances complete, and other industrial fields, terminal products are exported to USA, South American, Southeast Asia…, Obtained approval and the high praise from the domestic and foreign customers.
Our company is located in Liushi town that transportation is convenient, close to the beautiful scenery of the national tourism resort - the Yan Dang mountain, and Facing the hills to the open port city - Wenzhou ; Near Wenzhou airport, railway stations, with beautiful environment and convenient transportation.
We are producing strictly reference to the technical standard advanced industrial and examined by the national electrical control and distribution equipment quality supervision testing center. It possessing first-class equipment and developing engineers, products are made that use the high purity material. The contacts series are complete, numerous in varieties, that are welcome to many clients for its excellent quality and favorable price!
Our company with holding the principle "excellent quality, exceeding credit, clients first" to serve masses of users heart and soul. We are willing to create the world-leading brand and products with clients!
TEL:+008613757750709
FAX:86-577-62766133