Company Profile
YUEQING DALIER ELECTRICAL FACTORY is specialized in designing and developing wiring terminals and connector, cable lugs, contactors and thermal relay with excellent experience to manufacture such products.
Our products are widely used in electronic, machinery, instrument, electrical appliances complete, and other industrial fields, terminal products are exported to USA, South American, Southeast Asia…, Obtained approval and the high praise from the domestic and foreign customers.
Our company is located in Liushi town that transportation is convenient, close to the beautiful scenery of the national tourism resort - the Yan Dang mountain, and Facing the hills to the open port city - Wenzhou ; Near Wenzhou airport, railway stations, with beautiful environment and convenient transportation.
TEL:+008613757750709
FAX:86-577-62766133
product description
Non-insulated Spade terminal SNB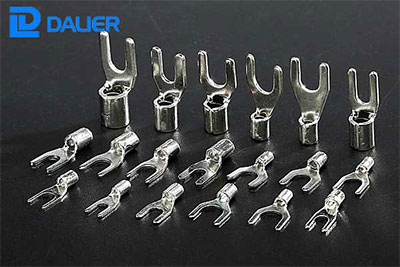 Cable size: 0.5~1.5mm²(A.W.G.22-16)
Max current: Imax=19A
Material: purple copper T
hickness: 0.7mm
Technical Specification:
| | | | | | | | | |
| --- | --- | --- | --- | --- | --- | --- | --- | --- |
| Type | American Bolts number | d2Φ(mm) | B(mm) | L(mm) | F(mm) | E(mm) | DΦ(mm) | dφ(mm) |
| SNB 1.25-3 | #4 | 3.2 | 5.7 | 16 | 6.5 | 4.8 | 3.4 | 1.7 |
| SNBS1.25-3.5 | #6 | 3.7 | 5.7 | 16 | 6.5 |   |   |   |
| SNBL1.25-3.5 | #6 | 3.7 | 6.4 | 15.5 | 6.5 |   |   |   |
| SNBS1.25-4 | #8 | 4.3 | 6.4 | 15.5 | 6.5 |   |   |   |
| SNBM1.25-4 | #8 | 4.3 | 7.2 | 15.5 | 6.5 |   |   |   |
| SNBL1.25-4 | #8 | 4.3 | 8.1 | 15.5 | 6.5 |   |   |   |
| SNBS1.25-5 | #10 | 5.3 | 8.1 | 15.5 | 6.5 |   |   |   |
| SNBL1.25-5 | #10 | 5.3 | 9.5 | 15.5 | 6.5 |   |   |   |
| SNBS1.25-6 | 43469 | 6.4 | 9.5 | 15.5 | 6.5 |   |   |   |
| SNBL1.25-6 | 43469 | 6.4 | 12 | 22 | 11 |   |   |   |
Outline: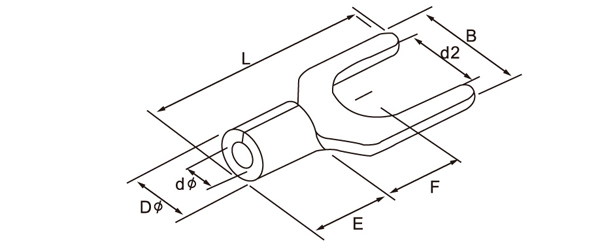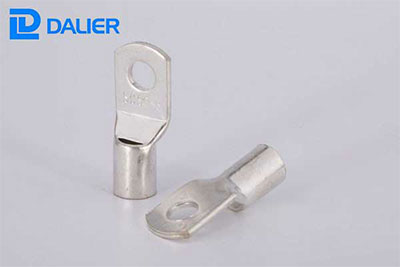 Technical Specification:
| | | | | | | |
| --- | --- | --- | --- | --- | --- | --- |
| ITEM NO. | D2φ(mm) | Dimensions(mm) |   |   |   | Conductor section(mm²) |
|   |   | dφ | DΦ | L1 | L |   |
| SC1.5-5 | 5.3 | 1.9 | 3.35 | 6.5 | 18.0 | 1.5 |
| SC2.5-4 | 4.3 | 2.6 | 4.0 | 7.0 | 18.0 | 2.5 |
| SC2.5-5 | 5.3 | 2.6 | 4.0 | 7.0 | 20.0 | 2.5 |
| SC4-5 | 5.3 | 3.2 | 4.8 | 7.5 | 20.5 | 4 |
| SC4-6 | 6.4 | 3.2 | 4.8 | 7.5 | 22.0 | 4 |
| SC6-5 | 5.3 | 4.1 | 5.5 | 9.0 | 23.0 | 6 |
| SC6-6 | 6.4 | 4.1 | 5.5 | 9.0 | 23.0 | 6 |
| SC10-6 | 6.4 | 5.1 | 6.5 | 9.5 | 25.0 | 10 |
| SC10-8 | 8.4 | 5.1 | 6.5 | 9.5 | 27.0 | 10 |
| SC16-6 | 6.4 | 6.4 | 8.0 | 12.2 | 30.7 | 16 |
| SC16-8 | 8.4 | 6.4 | 8.0 | 12.2 | 30.7 | 16 |
| SC25-6 | 6.4 | 7.4 | 9.0 | 13.3 | 34.0 | 25 |
| SC25-8 | 8.4 | 7.4 | 9.0 | 13.3 | 34.0 | 25 |
| SC35-8 | 8.4 | 8.5 | 10.5 | 14.5 | 38.0 | 35 |
| SC35-10 | 10.5 | 8.5 | 10.5 | 14.5 | 38.0 | 35 |
| SC50-8 | 8.4 | 9.6 | 12.0 | 16.5 | 42.5 | 50 |
| SC50-10 | 10.5 | 9.6 | 12.0 | 16.5 | 42.5 | 50 |
| SC70-10 | 10.5 | 11.9 | 14.5 | 19.0 | 50.0 | 70 |
| SC70-12 | 13 | 11.9 | 14.5 | 19.0 | 50.0 | 70 |
| SC95-10 | 10.5 | 13.2 | 16.0 | 20.3 | 56.5 | 95 |
| SC95-12 | 13 | 13.2 | 16.0 | 20.3 | 56.5 | 95 |
| SC120-12 | 13 | 15.6 | 19.0 | 24.5 | 64.0 | 120 |
| SC120-16 | 17 | 15.6 | 19.0 | 24.5 | 64.0 | 120 |
| SC150-12 | 13 | 17.4 | 21.0 | 29.0 | 69.0 | 150 |
| SC150-16 | 17 | 17.4 | 21.0 | 29.0 | 69.0 | 150 |
| SC185-12 | 13 | 19 | 23.0 | 32.0 | 72.0 | 185 |
| SC185-16 | 17 | 19 | 23.0 | 32.0 | 72.0 | 185 |
| SC240-16 | 17 | 21.8 | 26.0 | 38.0 | 92.0 | 240 |
| SC240-20 | 21 | 21.8 | 26.0 | 38.0 | 92.0 | 240 |
| SC300-16 | 17 | 24.8 | 30.0 | 43.0 | 101.0 | 300 |
| SC300-20 | 21 | 24.8 | 30.0 | 43.0 | 101.0 | 300 |
| SC400-16 | 17 | 28 | 34.0 | 46.0 | 110.0 | 400 |
| SC400-20 | 21 | 28 | 34.0 | 46.0 | 110.0 | 400 |
| SC500-16 | 17 | 30 | 38.0 | 47.0 | 119.0 | 500 |
| SC500-20 | 21 | 30 | 38.0 | 47.0 | 119.0 | 500 |
| SC630-20 | 21 | 35 | 45.0 | 56.0 | 135.0 | 630 |
| SC800-22 |   | 39 | 50.0 | 60.0 | 170.0 | 800 |
| SC1000-22 |   | 44 | 56.0 | 87.0 | 200.0 | 1000 |
Outline: